The controversial film Unfreedom has now released in New York and Los Angeles, as well as on national digital platforms such as iTunes. Directed by Raj Amit Kumar, the film explores subjects that rock the boat…especially so in India.
Consequently, the country went as far as banning it.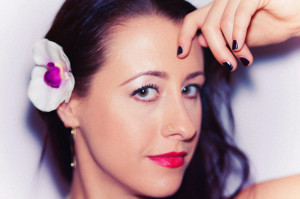 Following two story lines of same-sex love in India and terrorism in the USA, discrimination and violence are prised gruesomely out in the open.
Unfreedom stars Victor Banerjee, Bhanu Uday, Bhavani Lee, Preeti Gupta, Seema Rahmani, Ankur Vikal, Samrat Chakrabarti and Adil Hussain.
Aashi Gahlot at BollySpice interviewed actress Bhavani Lee, who plays the part of spunky bisexual Sakhi Taylor.
Lee is a graduate of the American Academy of Dramatic Arts, New York. She is also a Kathak dancer with the iconic Pt. Birju Maharaj as one of her gurus. Bhavani toured the world with Cirque du soleil and has done various theatre productions, short films & choreographed various fashion shows all across New York. She is also the creator of Devi Moves and the founder of Goddess Embodied.
Questions explored are bisexual portrayal in media, the ways how this challenging role shaped Bhavani as a person, coming out as LGBTQ and more!
What was the most challenging aspect of playing your character Sakhi Taylor and why?
She was definitely a challenge but a thrill to play. Sakhi is a tough cookie and sometimes I just wanted to say to her… "its OK to lose yourself in love", but maybe that's just the romantic in me.
What did you enjoy about playing Sakhi and why?
Her freedom. Her fight. Her fearlessness. Her strength. I loved getting in touch with these qualities as a woman. As an actor it was important to get in touch with her fears, her weakness and her insecurities. This was the only way I could understand what drove her fight as an LGBTQ activist.
How do you feel "identity" is defined? Can it be defined?
"Identity" is very important especially if you have someone trying to take it away or silence you. Its who you are, your individuality and what voice or stance you take in this world. Everyone deserves the freedom to express their own identity, whatever that means to them.
Why has India banned the film? What are they frightened of?
Obviously 'Unfreedom' has a message of truth. Unfortunately some people find the need to stand in the way of others self expression out of a fear. Its a terrible thing. Everyone deserves the right to choose whats best for their own life.
Your character is bisexual. In my experience there seems to be a lot of "bi-phobia" especially amongst the LGBTQ community. What were the key issues you faced through your character entwined with bisexuality? Were you surprised by any discriminative behaviour in the script?
I found it to be a delicate line of balance with playing Sakhi. On one hand she's this free spirit and when she feels a connection with someone it doesn't matter if they're a man or woman. On the other hand the character of Leela is really the only one shes ever deeply loved, although she'll never admit that.
How do you feel bisexuality is represented in the media? Is there enough coverage? Is it an accurate exploration?
Well I grew up in NY so I can only answer from my own perspective. I think every minority group has a hard time. Everyones story deserves to be told. I'm proud to have been able to play Sakhi because she's such a beautiful and complex character.
Sakhi is an intense character! Whilst playing Sakhi, what came up for you as an actress?
Sakhi is a tough girl as I said before. She never let's anyone in especially ones that come to her in love. I'm different in that sense. The moment I met my husband I knew I wanted to marry him!
What are you taking away from the film as an individual?
A gratitude that I've had the privilege to grow up in a place where I could express myself freely.
Sakhi becomes the brunt of homophobic racism. As you are not "Indian" you are accused of "sexually corrupting" others. How can the notion of "homosexuality is a western import" be challenged amongst South Asian societies worldwide?
People love to blame others instead of seeing the truth. All I can say is I pray the LGBTQ community in India and South Asia can continue to fight for freedom and find this freedom soon. I hope this film can act as a support as well.
What is your advice to:
– South Asian parents who have had a child come out as LGBTQ?
As I've witnessed, family is so important in South Asia and its a beautiful quality the West has lost. The love between a parent and child is an incredible bond that should never be destroyed by anything. Remember the love because that's all that matters in the end.
– An LGBTQ South Asian individual thinking of coming out/facing discrimination
You deserve to live your life truthfully and you have the strength to come out. Community is very important so find a group to help support you in it.