A Hansraj College alumnus, Bhanu Uday recalls his DU days, contesting student elections and the amusing reason for his defeat, and why he thinks daily soaps can be a graveyard for actors.
Bhanu Uday says he is in an interesting phase in his career. The Hansraj College alumnus was seen in the daily soap Hamari Sister Didi, which wrapped up in February. He'll soon be seen in the TV adaptation of Bengali film Chokher Bali and is also awaiting the release of his upcoming Hollywood film Unfreedom, in which he plays a butcher from Pakistan.
He was in Delhi recently and spoke to us about his college memories, and why he thinks daily soaps are a graveyard for actors.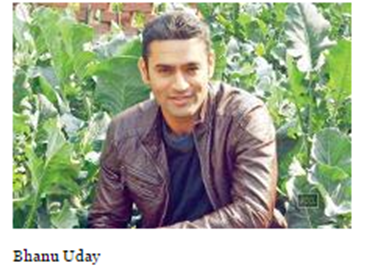 My father told me to have fun in college
I have awesome memories of Hansraj College. I was in the hostel and hostel ke ladke thode gunday type hote hain. Main toh uss type ka nahi tha. You feel like blood brothers when you are with your hostel friends, but treat day scholars with indifference. I enjoyed my hostel days. My father had said, 'I want you to have a great time in college.' Logon ke papa bolte hain, 'Beta, padhai karna', but my father said, 'Enjoy your college life'. So, I had a lot of time to think what I wanted, where I wanted to head. Ironically, I topped the college in my second year despite my father's advice.
I don't know how it happened. I was doing theatre with some groups. I didn't do any plays with my college's theatre society even though I had got admission on that basis. I wanted to do plays with professionals and not with amateurs. In fact, Maneesh Sharma, the director of Band Baaja Baaraat, was my senior and he was an actor then. I was very close to him then and we even worked together in a TAG (Theatre Action Group) play. I have great memories of Kamla Nagar market and whenever we would have money we would go to Old Delhi to eat kebabs. We would travel in buses to every place.
I was a kingmaker in college
During my first and second year in college, I was the chief campaigner during elections. Everybody knew that I am an actor and a performer, so I used to campaign for the person who was the candidate from our hostel, and they would always win. In the third year, I decided to contest the elections. Mujhe lagta tha ki main hi jeetunga kyunki main baaki sabko jita chuka tha.
I was like the kingmaker and I thought of becoming the king. We worked very hard at it even though we had a small team. All the girls loved me and I thought I would win comfortably, but I lost by 30 votes. The reason behind my defeat was that many girls had made hearts or written 'I love you' against my name! My chief campaigner was present at the time of counting and he told me this.
My college days gave me live experiences. Hansraj played a great role in my life as an artiste. Even though I was this cute guy whom girls liked, I actually never dated in college or the drama school. We used to go to Kamla Nagar after the girls we liked, but we never approached them and used to pretend as if we don't care.
We faced a lot of ragging
We had gone through a lot of ragging. Ragging ka ek doosra aspect bhi hota hai. People who have been to war together develop a great bond and it was the same for us. My friends and I developed a very strong bond because of this. Seniors aake rehte thay. They were called illegals. But in DU, I met people whom I would never be able to meet otherwise – like I met people from Bulandshahar. DU is like a melting pot. And I met people, who I think, will still be in DU. When we were students, there were people who had been in DU for 15 years! Unke liye woh unka rajwada tha aur woh wahaan ke raja thay. So, Hanraj was a great learning experience.
On TV, there are chances of becoming mechanical
I was shooting for the second season of TV show Ek Tha Rusty in Mussoorie when I made the comment that daily soaps are a graveyard for actors. This, actually, is not my comment. Ebrahim Alkazi, who was the founding member of the National School of Drama, had said this once, and he said it about TV in general.
In a daily soap, you initially find the character interesting. But after a point, you just give your output and don't soak in anything. There are chances of you becoming mechanical, following patterns and getting a style (but not in a good way), in terms of how you act and emote. Daily soaps are exhausting. After a while, you need a break from acting to fill yourself up. But there are also some great things that happen. The camera becomes your best friend.
I'm looking to hire an agent in America
The Hollywood thing was freak luck. I can't take any credit for it. The director of that film auditioned me incessantly. I was really passionate and hungry for a good role. It was a dream role. I just hope that it finds a release in India. Right now, we are excited about its release in America. My brother is in America, so I have asked him to find me an agent there. I am really interested to work there.